Area/Location
---
The Learning Resource Centre is situated on the 3rd floor of the college premises and is using a favorable space to cater the internal and external patrons.
The total area of library is 2472 Sq.ft (229.6563 sq. meters) which is subdivided as below:-
| Sr. No | Particulars | In Sq.Mts |
| --- | --- | --- |
| 1 | Librarian Cabin | 7.19 |
| 2 | Reading Room | 100.06 |
| 3 | ICT Zone for Students | 2.43 |
| 4 | Counseling Section | 4.46 |
| 5 | Special section for advance learners | 11.15 |
| 6 | Book Issue Counter | 22.30 |
| 7 | Book Stack Area | 49.42 |
| 8 | Periodical Section | 11.42 |
| 9 | ICT Zone for Faculty members | 10.27 |
| 10 | Reprography section and ICT Tools | 2.79 |
| 11 | News paper section | 8.17 |
| | Total | 229.65 |
Salient Features
---
1. Automation-SOUL ILMS
Our Learning resource center is automated with Soul 3.0 Library. Management integrated software which is maintained by INFLIBNET center.
It is user friendly software developed to work under client-server environment.
All books are bar coded.
2. ICT Zone for Students and Faculty
Well equipped Internet facilities are provided to students for projects and reading e- books.
Learning Resource Center facilitates separate internet zone for faculty members.
Multimedia facility.
3. Inflibnet / IUC facilities
Yearly subscription of N-List e- resources is subscribed by Learning Resource Center.
A separate ID and password is provided by the N-list to the patrons.
4. ICT Tools
CDs / VCDs in library 252
For effective teaching learning process library facilitates laptops and projectors to faculty members.
A separate record is prepared for the purpose.
End of the academic year every faculty has send record of his utilization of teaching learning aids.
5. User Guidance
On searching books on OPAC / WEBOPAC and physical location of books.
Searching the required information from the internet.
Searching the information from subscribed e- resources (N-List)
Guideline provided for the fair use of reading material.
6. External Membership
Offered to Ex- students @ Rs.500 & Rs.1000/- as refundable deposit.
Offered to resident of thane@ Rs. 1000 as refundable deposit.
7. External Membership
Reference card
Competitive exam section
8. External Membership
Learning Resource Center keeps record of previous years question papers.
Question papers are given to students and faculty on request.
9. External Membership
Every year with the help of NSS unit Learning Resource Center organizes book exhibition. On the occasion eminent personalities are invited from Library and Information Science.
Book exhibition for year 2015-16 was held in Sept, 2015 with the support of College N.S.S Unit.
Support received from vendors for showcasing their latest publications on display.
10. External Membership
News paper clippings on request
Bibliographic compilation on request
Reprographic services
Scanning and printing
Inter – Library borrowing and resource sharing through associate colleges in Thane.
Social Media Support
NKTLRC Facebook
NKTLRC Email: rblule7298@gmail.com
NKTLRC Weblog: http://nkttlrc.blogspot.in
NKTLRC Whatsapp no: 9769897617
Our Strength
---
Ample number of reference and text books is available in library
Effective application of various book bank schemes in the library
Various innovative schemes like 'EYEREF Readers Club' and 'Earn & Learn Scheme' are successfully implemented.
Every year college organizes book exhibition with the assistance of NSS unit and management.
Knowledge sharing sessions through eminent personalities are organized by Learning Resource Center for improving efficiency in daily operations.
Regular visit to well developed libraries by library staff to evaluate and compare the progress made the Learning Resource Center is up to the standard level.
Prominent and best resource periodicals are subscribed by Learning Resource Center for the patrons.
Our Future Plans
---
Technological up gradation with full resource materials and databases for 'Right information @ Right time' .
Continuation of Earn and Learn Scheme.
To develop learning and reading habits among the user community through the usage of e- resources.
To develop Learning Resource Center to cater the future need of user community.
Develop library website.
Incorporate 'Institutional Digital Repository' with D space open source software.
Collection / Resources /Assets
---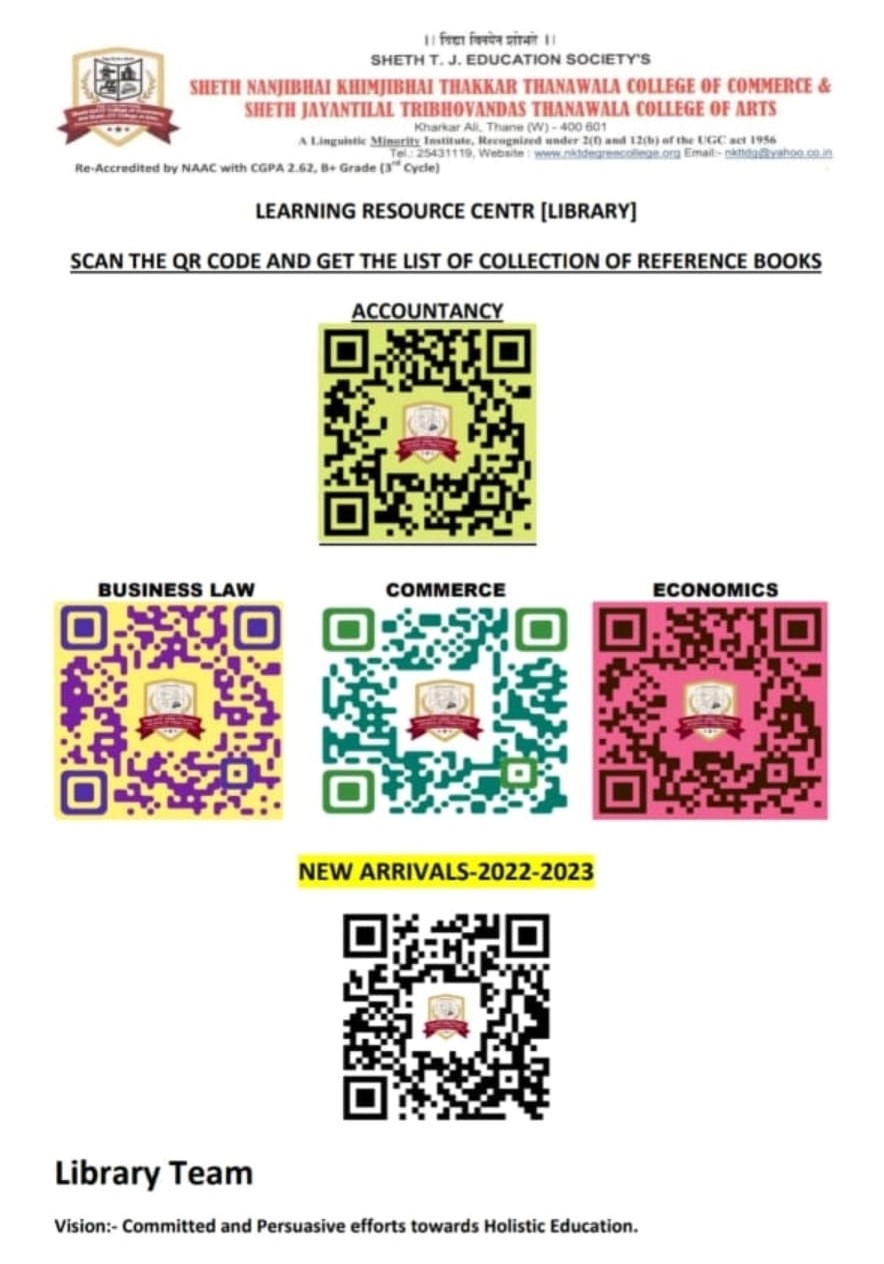 GET LIST OF BOOKS THROUGH QR CODE